There are multiple factors when it comes to finding the issue behind the drop in rankings.
In general, there are 3 factors to consider to find out the cause of the ranking drop. It could be due to the competition is performing well or your website lost quality due to any change/error or it could be due to the search engine algorithm change. If you are losing rankings and want to know what might have caused this, consider doing a Technical SEO Audit first.
Technical SEO is the process of optimizing your website for the search engine crawling and indexing phase. Technical SEO can help search engines access, crawl, interpret and index your website without any problems.
There are multiple tools to check for technical SEO errors, I recommend using ahrefs or semrush other than Google search console analysis.
Fix Technical SEO Errors with Salam Experts
We have fixed technical SEO errors of hundreds of websites having Shopify, WordPress, Wix, Duda, and many more.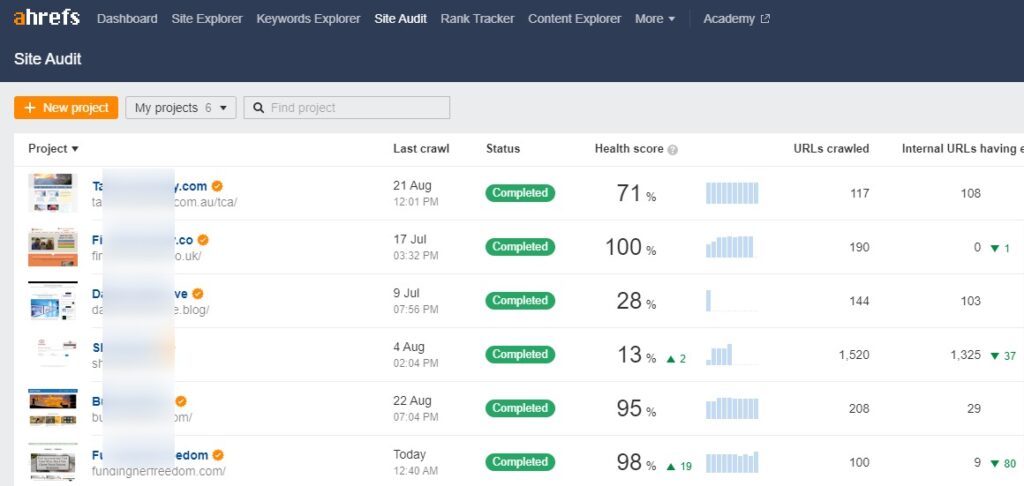 The technical site audit can help in identifying errors that normally unveil any crucial error that might have caused the ranking down issues. The errors are following.
404 page
 
 
4XX page
 
500 page
 
5XX page
 
HTTPS/HTTP mixed content
 
Timed out
Indexability
 
Canonical from HTTP to HTTPS
 
Canonical from HTTPS to HTTP
 
Canonical points to 4XX
 
Canonical points to 5XX
 
Canonical points to redirect
 
Nofollow in HTML and HTTP header
 
Nofollow page
 
Noindex and nofollow page
 
Noindex follow page
 
Noindex in HTML and HTTP header
 
Noindex page
 
Non-canonical page specified as canonical one
Links
Indexable
 
Canonical URL has no incoming internal links
 
HTTP page has internal links to HTTPS
 
HTTPS page has internal links to HTTP
 
Orphan page (has no incoming internal links)
 
Page has links to broken page
 
Page has links to redirect
 
Page has no outgoing links
 
Page has nofollow and dofollow incoming internal links
 
Page has nofollow incoming internal links only
 
Page has nofollow outgoing internal links
 
Page has only one dofollow incoming internal link
 
Redirected page has no incoming internal links
Not indexable
 
HTTP page has internal links to HTTPS
 
HTTPS page has internal links to HTTP
 
Orphan page (has no incoming internal links)
 
Page has links to broken page
 
Page has links to redirect
 
Page has no outgoing links
 
Page has nofollow and dofollow incoming internal links
 
Page has nofollow incoming internal links only
 
Page has nofollow outgoing internal links
 
Page has only one dofollow incoming internal link
 
Redirected page has no incoming internal links
Redirects
 
302 redirect
 
3XX redirect
 
Broken redirect
 
HTTP to HTTPS redirect
 
HTTPS to HTTP redirect
 
Meta refresh redirect
 
Redirect chain
 
Redirect loop
On page
Indexable
 
H1 tag missing or empty
 
Low word count
 
Meta description tag missing or empty
 
Meta description too long
 
Meta description too short
 
Multiple H1 tags
 
Multiple meta description tags
 
Multiple title tags
 
Title tag missing or empty
 
Title too long
 
Title too short
Not indexable
 
H1 tag missing or empty
 
Low word count
 
Meta description tag missing or empty
 
Meta description too long
 
Meta description too short
 
Multiple H1 tags
 
Multiple meta description tags
 
Multiple title tags
 
Title tag missing or empty
 
Title too long
 
Title too short
Social tags
 
Open Graph tags incomplete
 
Open Graph tags missing
 
Open Graph URL not matching canonical
 
Twitter card incomplete
 
Twitter card missing
Duplicate content
 
Duplicate pages without canonical
Localization
 
Hreflang and HTML lang mismatch
 
Hreflang annotation invalid
 
Hreflang defined but HTML lang missing
 
Hreflang to non-canonical
 
Hreflang to redirect or broken page
 
HTML lang attribute invalid
 
HTML lang attribute missing
 
Missing reciprocal hreflang (no return-tag)
 
More than one page for same language in hreflang
 
Not all pages from hreflang group were crawled
 
Page referenced for more than one language in hreflang
 
Self-reference hreflang annotation missing
 
X-default hreflang annotation missing
Performance
 
HTML file size too large
 
Not compressed
 
Slow page
Images
 
HTTPS page links to HTTP image
 
Image broken
 
Image file size too large
 
Image redirects
 
Missing alt text
 
Page has broken image
 
Page has redirected image
JavaScript
 
HTTPS page links to HTTP JavaScript
 
JavaScript broken
 
JavaScript redirects
 
Page has broken JavaScript
 
Page has redirected JavaScript
CSS
 
CSS broken
 
CSS file size too large
 
CSS redirects
 
HTTPS page links to HTTP CSS
 
Page has broken CSS
 
Page has redirected CSS
External pages
 
External 3XX redirect
 
External 4XX
 
External 5XX
 
External time out
Other
 
3XX page receives organic traffic
 
3XX redirect in sitemap
 
403 page in sitemap
 
403 page receives organic traffic
 
4XX page in sitemap
 
4XX page receives organic traffic
 
5XX page in sitemap
 
Double slash in URL
 
More than three parameters in URL
 
Noindex page in sitemap
 
Noindex page receives organic traffic
 
Non-canonical page in sitemap
 
Non-canonical page receives organic traffic
 
Page from sitemap timed out
Let Us Fix Technical SEO Errors
If you want help in technical SEO auditing your website and fixing these ahrefs or semrush Technical SEO errors. Feel free to contact us. As an agency, we have fixed these errors for multiple platforms such as WordPress, Wix, Duda, Webflow, Squarespace, Xenforo, etc. Feel free to contact us to fix ahrefs or semrush errors.
Do You Want To Boost Your Business?
drop us a line and keep in touch