In the case of SEO narration, experience often contrasts with that of SEO narration, so we use the term controversial. There are scenarios that seem at odds with SEO common knowledge, but that's the nature of SEO. Different scenarios may result in different results depending on the implementation of a particular SEO strategy. Details are what matter.
We will show you that SEO is an art rather than a science as we explore negative SEO and the dark side of link building as well. By reading the detailed descriptions of these backlinks and case histories, you will learn about backlinks, backlink profiles, and link building.
What are the types of links?
In general, there are three types of links:
Internal links: hyperlinks that lead from one page to another within your own website.
External links: hyperlinks that lead from your website to another resource.
Backlinks: hyperlinks that lead from another site to yours.
What are toxic backlinks?
Backlinks that hurt a website's search engine optimization (SEO), or its ability to rank well.
As toxic backlinks come from an untrusted source, they can negatively affect a website's search engine ranking. Google introduced the concept of adverse backlink profiles with the Penguin algorithm update in 2012. As a result of violating Google's strict backlink evaluation procedure, websites with poor backlink profiles were severely penalized.
A toxic backlink is an unnatural link that harms a website's search engine rankings, or at the very least, weakens its SEO.
A weak SEO results in less organic traffic from search engines.
Smaller organic traffic means fewer visitors, fewer leads, and ultimately fewer sales.
Some toxic backlinks can occur organically, but these are rare cases. For example, a previous link-building effort may suddenly hurt your SEO because the search engines changed their minds about certain kinds of backlinks.
It is possible to create toxic backlinks as part of so-called negative SEO. Negative SEO is the deliberate act of creating poor-quality links (spam link building) in order to hurt a website's ranking.
Negative SEO refers to unethical link building and other strategies (known as black hat) used to sabotage a competitor's backlink profile and impact search engine rankings.
Here is an example of indirect negative SEO, where hackers compromised a website and created thousands of SPAM backlinks using industrialized techniques.
What causes toxic backlinks?
Most toxic links found by search engines come from SPAM sites. SPAM sites are specifically designed for negative SEO strategies and are designed to create artificial links. In order to identify any aggressive spam link-building, it is imperative to monitor your backlink profile. You will be able to take immediate proactive action and avoid future problems if you carefully monitor your backlink profile.
Links may also come from legitimate websites that have been hacked. Phishing emails, for example, may contain links from hacked websites.
Types of Low-Quality Links?
Linking to sites that were set up only for the purpose of linking out.
Sites and content that aren't topically relevant.
Sites that aren't indexed by Google.
Sites with link networks and spam
Blog comments
Forum profile links
Irrelevant theme
Poor layout
How to Remove Toxic Backlinks
Learn what makes a backlink 'toxic'. Use a tool to identify all bad links pointing to your site. Contact the webmaster to request removal.
Types of Link Spam You Want to Avoid.
Find Where Those Toxic Links Are Coming From.
Request Removal from Website.
Create and Submit a Disavow File to Google.
How to identify toxic backlinks
A toxic backlink is one whose website has a low level of trust. Toxic backlinks may not necessarily be high-volume, i.e. they may not come in large numbers. For example, they might come from a few paid links or links from link schemes or networks.
A toxic backlink looks like this:
websites with low trust.
Links with unnatural anchor text (keyword focused).
Two very important things about your backlinks and backlink profiles
Understand your backlink profile, then seek toxic backlinks and negative SEO initiatives.
Start your backlink analysis by analyzing backlinks with the lowest value of Trust.
Here I'm attaching some examples of toxic links from SEMrush Data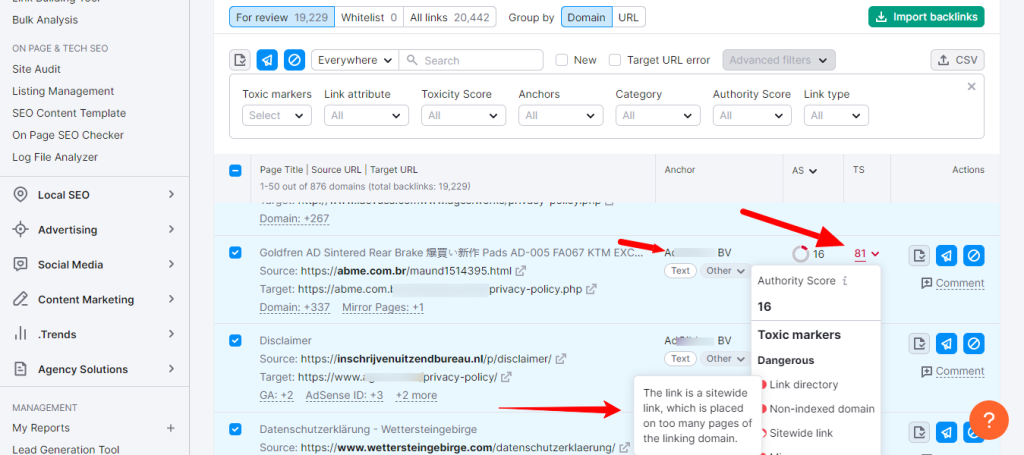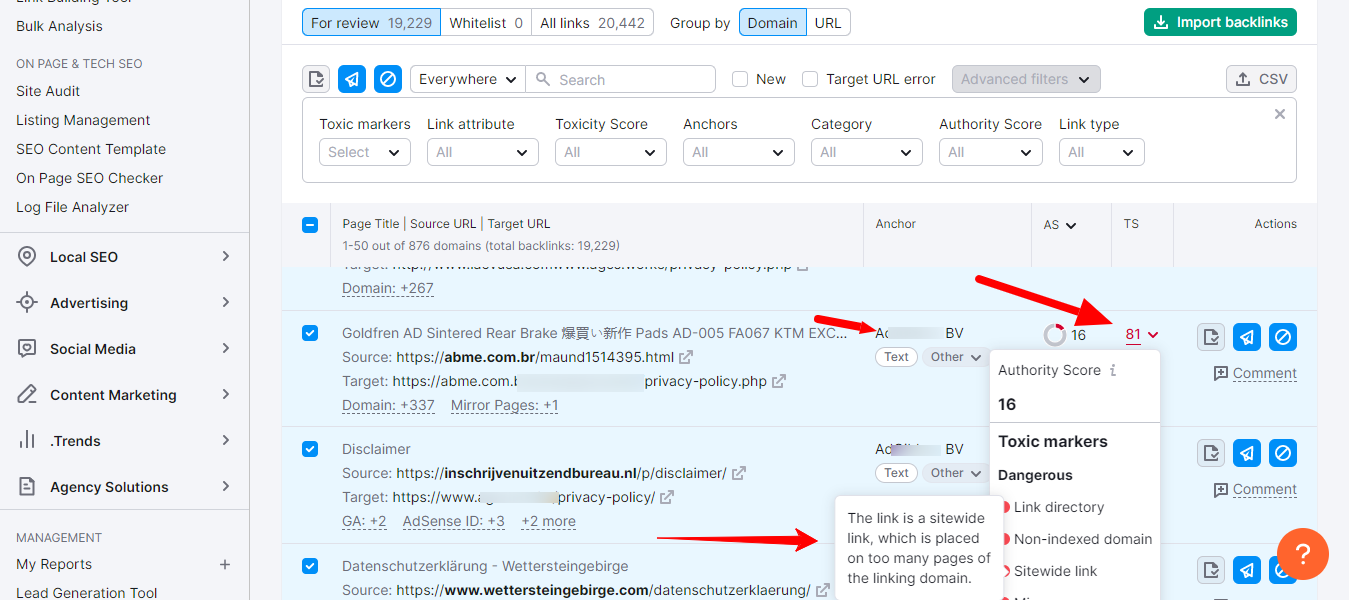 On this site, we have examples of backlinks created with irrelevant anchor text, using link directories, sitewide links, and non-indexed domains that cause links to be deemed spam.
Another Directory Example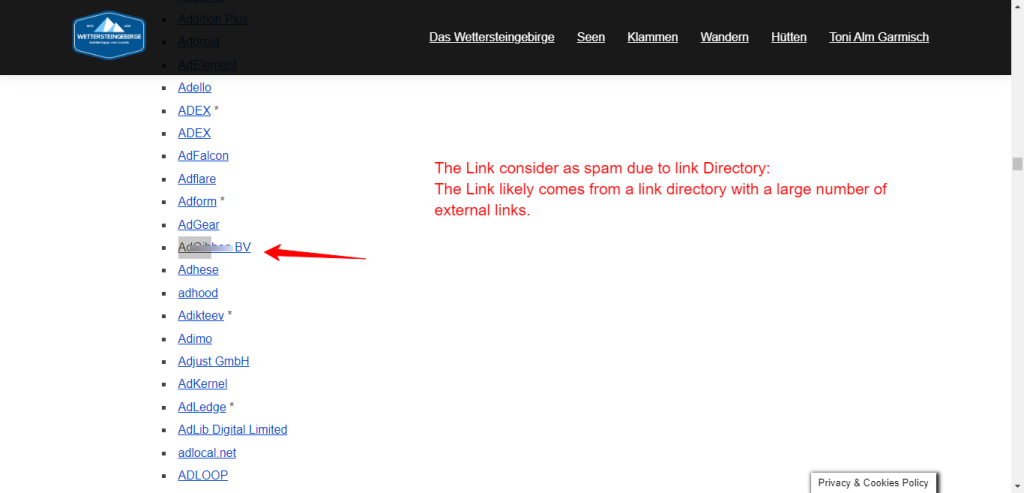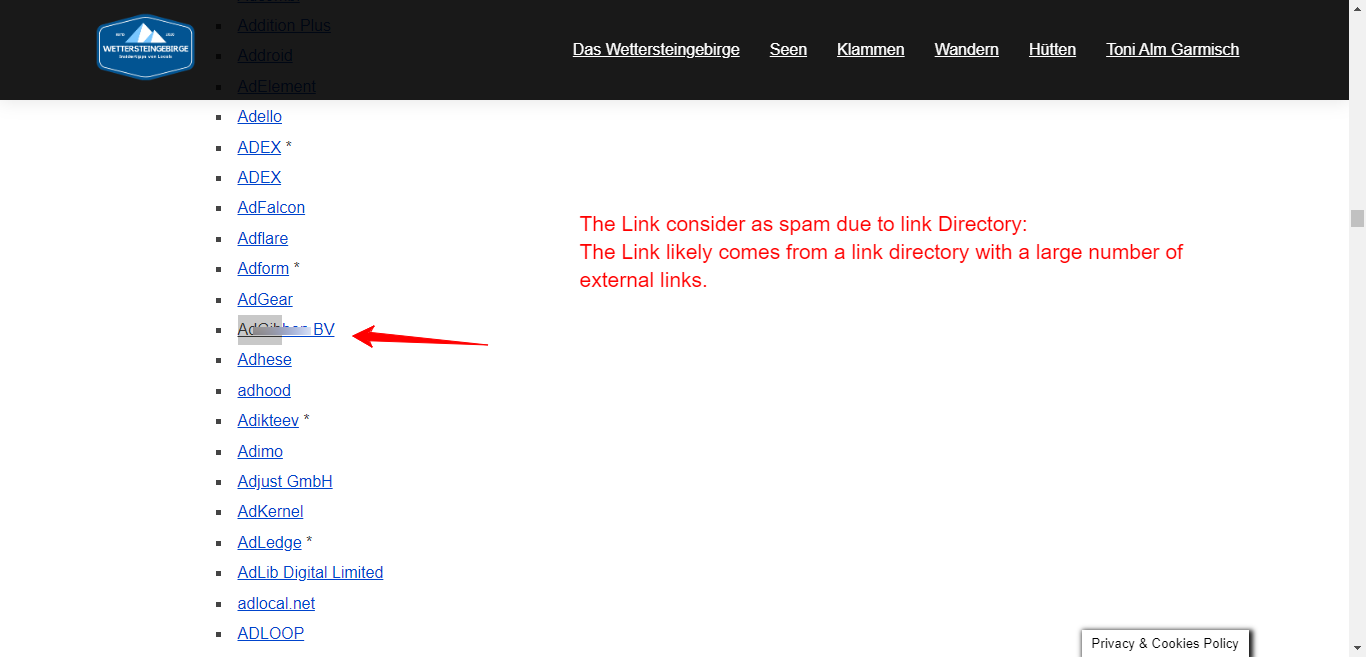 Start by Analyzing Your Backlink Profile
The process of downloading and filtering backlinks from domains with low Trust Flow values can often detect toxic links quickly. The process can take some time and effort, but it's well worth the investment.
Removing toxic backlinks from backlink profiles
The next phase of the activity is to clean up the low-quality backlinks.
Your objective is to identify the truly toxic backlinks
Make sure your backlinks are of high quality by auditing them carefully and double-checking them. To determine if the backlink is still active or whether it is relevant to your content, you may need to visit the website that sourced the link. If you analyze your backlinks, you don't want to get rid of all of them – just the ones you think are low-quality backlinks. Unless your site is about motorcycles and another site is about computers, they are not closely related.
You can audit the toxicity of your backlinks with SEMrush Backlinks Audit Tool.
In order to be a good backlink, it doesn't always have to be 100% about the topic
As an example, if your website about Auto Transport receives a backlink from a Health website there is probably a legitimate underlying bond that triggered the link.
Now You're Ready to trigger the Disavow Procedure
When you discover SPAM toxic backlinks on your site, you are disavowing them because you think the search engines will take manual action against your site for unnatural links. All paid links and other link-building schemes that violate the Webmaster Guidelines will be disavowable. If this is the case, you need to contact the webmaster to ask them to remove those links. But this rarely works. If you can't get them removed, then you should disavow those links.
Your disavow file is a simple text file that includes all the URLs you want to ignore from search engines. It contains one URL per line. Search engines disregard disavowed links when ranking your website and determining its authority. In order to initiate the disavow procedure with Google, point your browser to this page after creating your disavow list.
Choose File and Disavow Links to upload your (*.txt) file. Uploading information can take a few weeks, maybe even longer. The site will be added to their index after it has been processed, as they re-crawl the web. For digital marketers, SEO is crucial, so we must carefully monitor our backlink profiles to avoid penalties.
In Summary
You should download all your low-quality backlinks (those with a null Trust Flow value)
Identify the SPAM links.
Request the link to be removed by the webmaster (Not practical – almost never works)
You can disavow the links by creating a disavow file and uploading it to Google using your Search Console.
Conclusions
This article examined backlink profiles in great detail to determine the origin and nature of toxic backlinks. It also discussed the many aspects of link building related to toxic backlinks and backlink profiles. You have learned not only about negative SEO but also about negative backlink profiles and their effects of them. It has been introduced that toxic links can be disavowed and a disavowed file can be created and uploaded that will make search engines ignore them.
Do You Want To Boost Your Business?
drop us a line and keep in touch